Inaugural Jersey City Mural Festival Celebrates Flourishing Art Community
Over 70 artists crafted murals covering more than 50 walls across the Journal Square and Hamilton Park neighborhoods.
Jun 7, 2021 · 2 Minute Read
---
This past weekend, Mana Public Arts and Jersey City Mural Arts Program introduced the Jersey City Mural Festival in partnership with Mayor Steven M. Fulop, the Jersey City Municipal Council, and the Office of Cultural Affairs.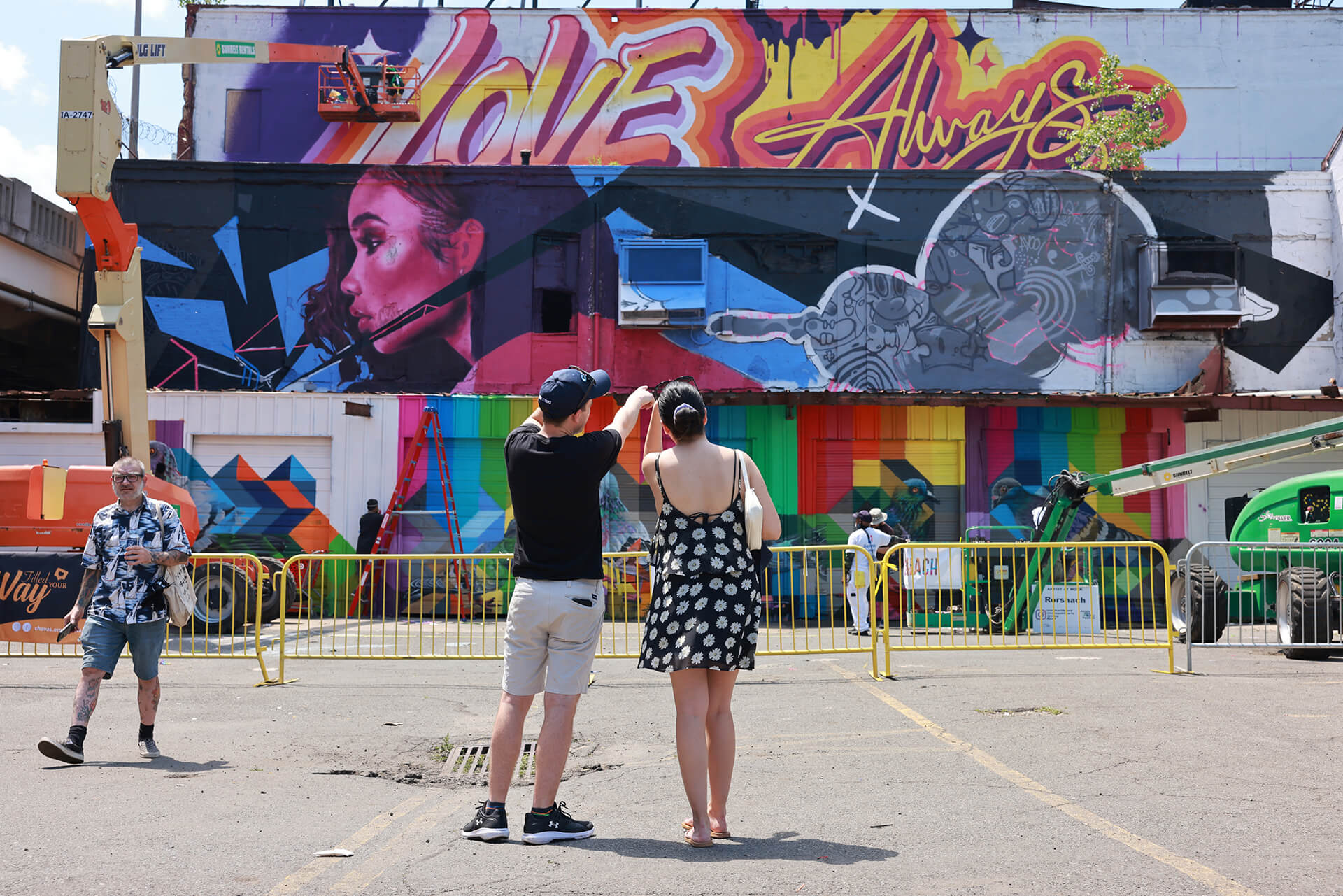 Visitors enjoy Jersey City Mural Festival 2021
After a year of being confined to indoor activity, the Jersey City community embraced the opportunity to safely celebrate creativity and cultural expression through breathtaking displays of mural artwork. The event supported small businesses across Hudson County that have been adversely impacted by the COVID-19 pandemic.
The festival offered limited edition Beer Cans from sponsor Ghost Hawk Brewing, with proceeds benefiting the NJHRA's Beverage and Food Employee Crisis Support Fund (BFECS).
Artists were required to submit mural proposals in which they were given the opportunity to present a preview for approval. One aspect that made the mural festival particularly special was the level of self expression which was encouraged. Some murals engaged discussions on social issues, while others were more abstract celebrations of creativity.
For instance, a large-scale mural from Amanda Phingbodhipakkiya, "Stand With Us", was created to raise awareness in the fight against anti-Asian harassment which has unfortunately grown tremendously since the COVID-19 pandemic.
'Stand With Us' painted by Amanda Phingbodhipakkiya for Jersey City Mural Festival 2021
Accompanying the beautifully painted walls were beer gardens, food trucks, live entertainment and merchandise pop ups. Along with previously mentioned Ghost Hawk, vendors included local favorites 902 Brewing Co., Ani Ramen, Jerkin Chicken, Aroy the Thai Elephant, Dark Side of the Moo, Smoke Odyssey, The Grind Coffee Shop, Stack Creamery, Modcup and El Chilango.
The event was held in strict adherence with the reopening guidelines set by the State of New Jersey, and all aspects of the 2021 Jersey City Mural Festival were executed with strict COVID-19 protocols and social distancing.
The event organizers were proud to announce that the Jersey City Mural Festival will become an annual event, returning in 2022.
---